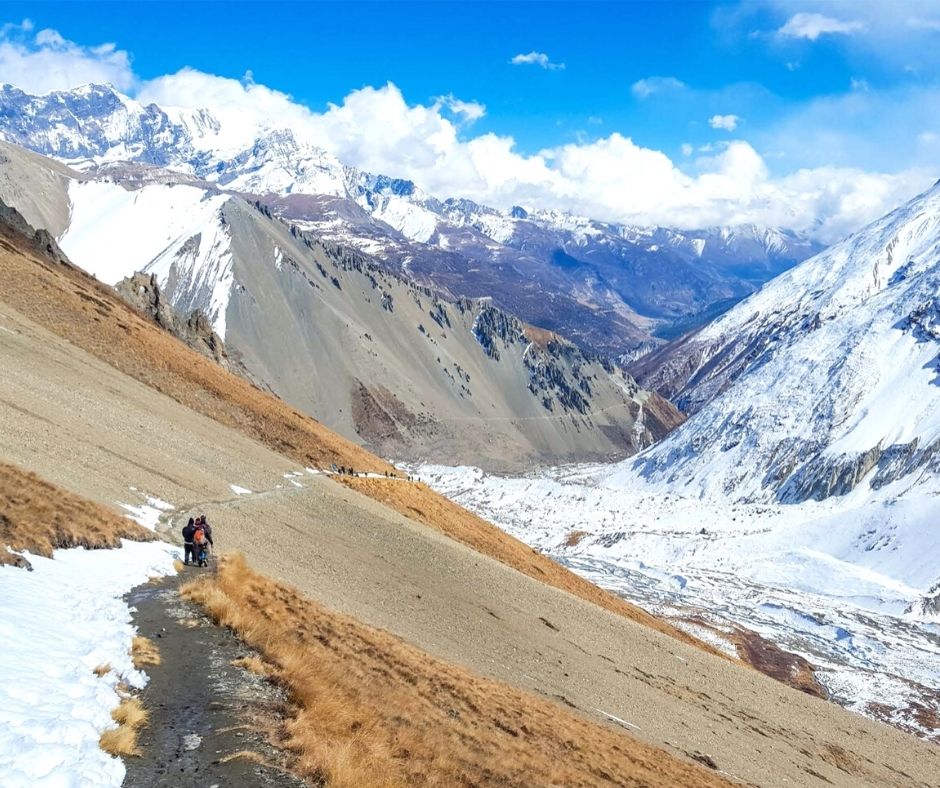 There are a ton of resources out there to help you find current trail conditions so that you can effectively plan your adventure. It's important to plan for the unexpected even after you research trail conditions, particularly in the winter and fire seasons. Weather predictions are just that, educated guesses so make sure your pack has the appropriate survival gear. So, let's get right to it. How do you see what a recreation area is like right now?
SOCIAL MEDIA
Instagram
One of the easiest and quickest ways to see for yourself what a recreation area or trail looks like is to head over to Instagram and conduct a hashtag search for your trail or region. For example, if you're hoping to snowshoe in Central Oregon's Virginia Meissner Sno park simply search #virginiameissner. Then sort the resulting pictures by "recent". Due to the elections, IG isn't allowing a hashtag to be sorted by "recent." Until this feature is restored, search your trail or location by name instead of hashtag. If it has it's on IG account, click on it then click on "recent." This feature is still active and can be very effective. Then click on a few of the recent images to see how recent it really is. Below the image there will be a date or time if it was taken within the last 24 hours. Is this 100% fool-proof? No. I could easily take a picture and not post for a few days making my post outdated but the majority of folks want to serve "the Gram" immediately. :)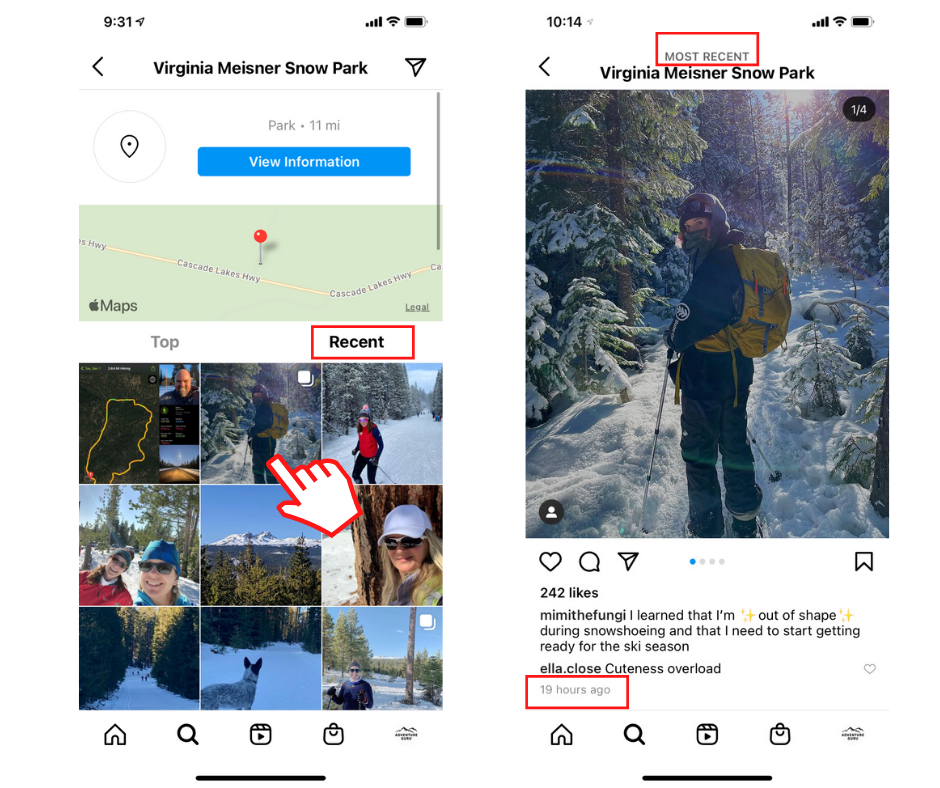 Facebook
Facebook also has regional hiking groups and sometimes the groups are based on current conditions. Search for the region/hike you're researching and join the group. Feel free to ask questions on current conditions and you're likely to see an army of people excited to show off their recent adventure there.
SATELLITE MAPS

Gaia
This is my favorite mapping tool. With a free subscription you have access to a world of maps. The biggest restrictions for free users is offline maps, and less layer options. I HIGHLY recommend shelling out the $32 for an annual pro membership so you can download maps for every region you visit. Here is a link to a discount from HikingGuy. I download large sections of the map anytime I travel. It's a lifesaver! Ok... now the bread and butter, how to see current conditions. Gaia recently dropped new satellite layers called "FreshSat - Cloud-free, Snow Depth, Freshsat Recent, and Snow Forecast." You can search the map for your hike then add the FreshSat Recent layer to see current conditions. If there are clouds in the way switch to Freshsat - Cloud-free and look for the red numbers on the page to see the date the picture was taken. It's usually within a week. Another layer that comes in handy for snow conditions is the "snow depth" layer. It's a prediction based on NOAA's weather reports. You can add this layer and then hover over the image next to the title of the layer. It will reveal an "i," click this to see the key to the map. The one below shows a blue layer which indicates 20-39'' snow depth.
In addition to current conditions, Gaia Maps is a great solution for map coverage of cellular service, BLM land, hunting, weather forecasts, nautical, Appalachian Trail, Colorado Trail, PCT, air quality, avalanche reports, and more!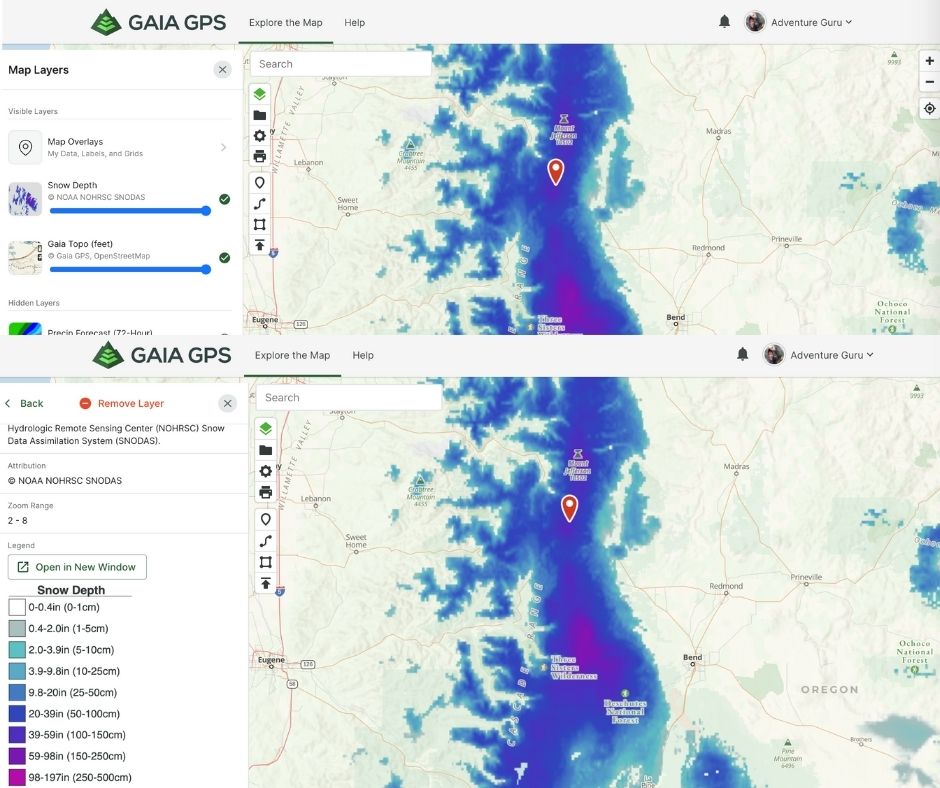 If you already use Gaia or are new to the platform check out their series of YouTube videos that teach you how to use their platform.
This hiking tool is a lot like Gaia but not as slick. It's a bit clunky, with a clear programmer's mind. Things can be a bit harder to find, but the layers are free! It's also a fantastic resource for fire activity (see the image below).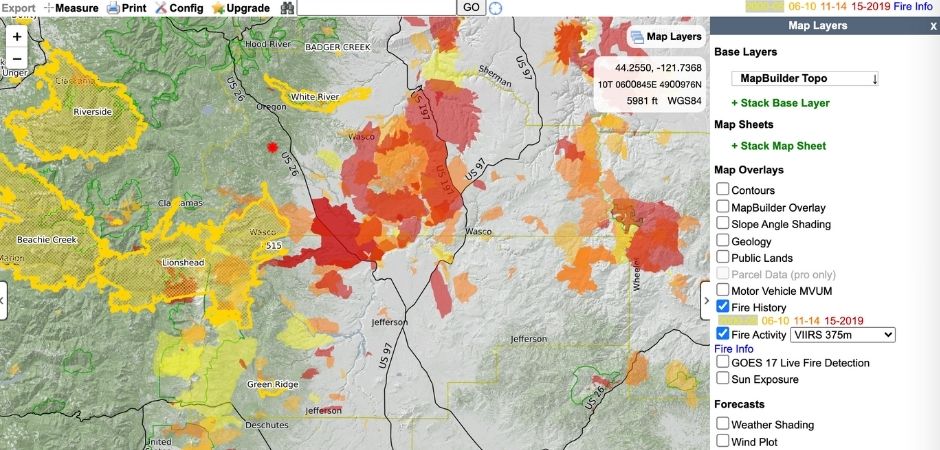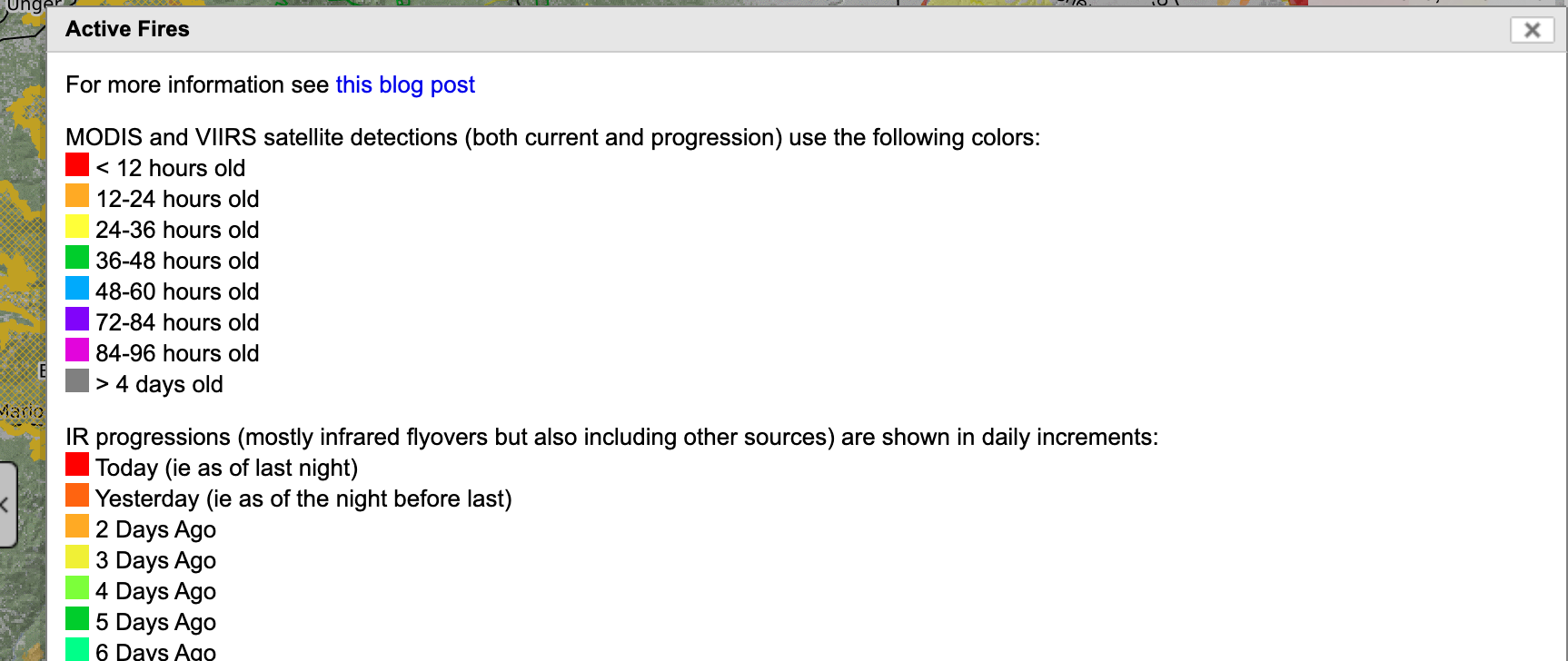 WEATHER APP
If you're into wind sports or, like me, don't enjoy howling winds during a paddle or hike then download "Windy"(iPhone, Google Play). It's a fantastic hyperlocal app that focuses in on wind better than any other I've seen. It provides hourly wind and weather predictions in any section of a city. It also has built in current road condition cameras closest to the area you're searching which is pretty great for winter conditions.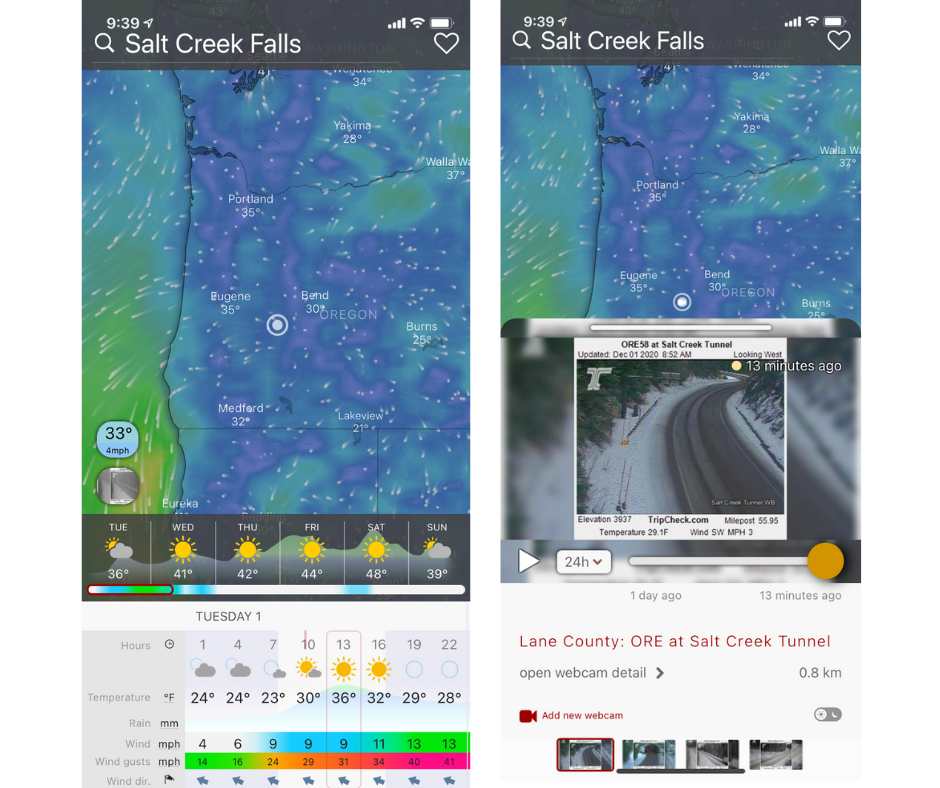 PARK RANGERS
This old school simple solution still works fairly well. Simply call up the ranger station that serves the recreation area you want to visit. Ask them about the trail, road, and parking conditions for the recreation spot you're interested in exploring.
This is certainly not a comprehensive list but it should get you started! Safe adventuring, and thank you for leaving each space even better than when you found it! You rock!