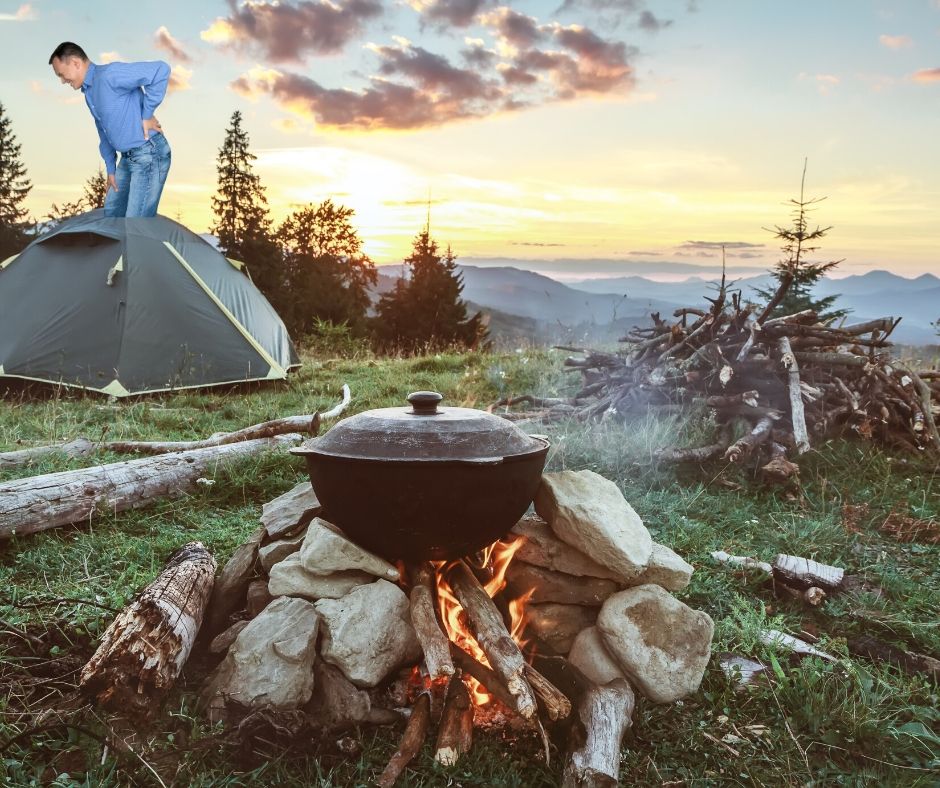 Camping and enjoying the great outdoors is a fantastic sensory experience. The smell of the pine trees, the fresh breeze that glides across your face, the warm sun on your shoulders, and the shooting pain down your back. Wait... that last one is not so fantastic, but as a person who handles chronic back pain daily, there are ways to keep it at bay. Giving up camping and nature's playground is not an option for us nature-lovers, so here are five ways to keep back pain at bay when you camp.
1. Back Friendly Camping Sleep Options
I can attest with great passion the absolute wreck your back will be in after sleeping a night in an air mattress or roughing it on the ground. It seems near impossible to find an air mattress that doesn't slowly leak, and even if it were 100% secure, the flux in temperature from setup to the coldest time of night will change the inflation (PSI - which feels like a night elf dialed down your sleep number) as the air expands and contracts. Below are back friendly sleeping options.
Cot - There are a variety of cots out there, some with built in tents and a 3'' pad. I'd recommend adding an additional pad on top of the cot for both insulation and comfort. There are even backpacking-friendly cots that weight 2-3 pounds.
Hammock - these are all the rage these days. Not only are they back friendly they are light and offer multiple uses. Make sure and sleep in a 45 degree diagonal with the hammock to achieve the flattest angle for your back. Without this technique your feet will fall asleep and you could experience pain. Also make sure there is insulation below you (i.e. yoga mat, sleeping mat, or custom insulation designed for your hammock). Lastly, make sure you learn some easy release knots, use tree straps, or carry a multi-tool with pliers to untie the knot. With the tension from your weight it gets pretty snug.
Bed - Put your favorite memory foam mattress in your travel trailer, pop-up tent trailer, tear drop, the back of your SUV, or rooftop tent. There are travel-friendly memory foam mattresses that fold up in thirds, which would be better suited for the last three options.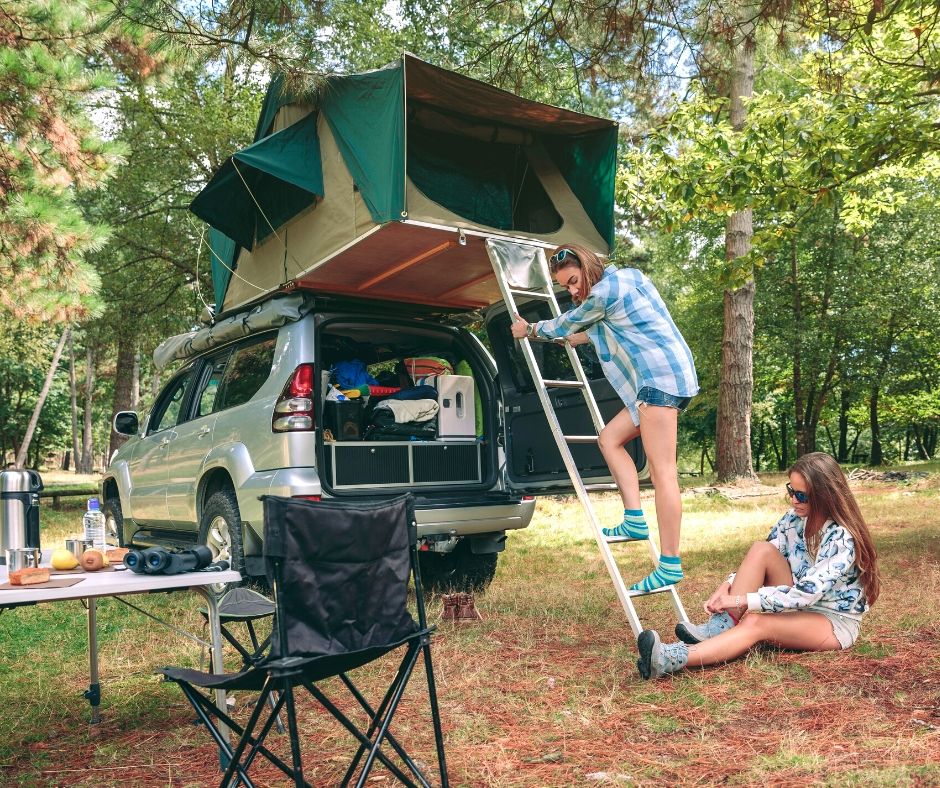 2. Warm up before play
Camping is about being active. No matter what your go-to activity is (hiking, kayaking, biking, flag football, ultimate frisbee, etc) you should warm up before you "play hard." Jog in place or do a few jumping jacks and high-knees. Once your blood is pumping, do a few stretches. Pay special attention to your hamstrings and back.
3. Keep Moving
Back pain's best friend is inactivity. While part of recreation and camping is relaxing, the human body was not designed to stay in a seated position. To avoid pain, make sure you move around at least every hour. Set a timer, or use an app like Stand Up.
4. Work Smarter Not Harder
When setting up camp, prepping a fire, or moving a cooler make sure you work smarter not harder. If your firewood is a bit too thick then use a camping knife to splice it into smaller pieces. simply place the firewood on it's short side, place the blade down on the amount of firewood you'd like to cut away and use a rock or hammer to softly tap the blade through the wood. Bring the right tools to secure your tent, trailer, and camp for the anticipated environment (i.e. clay, rock, sand, etc). Replacing your tents stakes is always a great idea. The once they come with bend incredibly easy.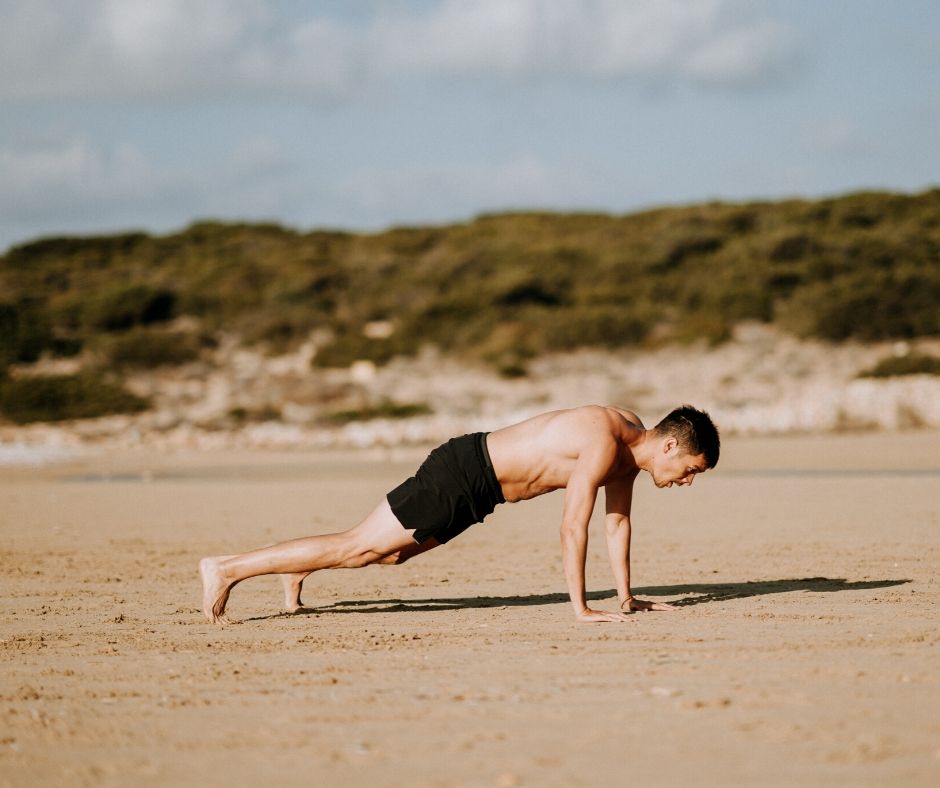 5. Core Exercises
A strong core equals a strong and happy back. Even if you have a ways to go before you could say you have a "strong core" the daily exercises themselves will provide relief for your back. This is why you should incorporate at least four 30-second planks and four 30-second supermans.
Now, you've earned that campfire-side beer and the pain-free outdoor adventure!